Competition-quality barbeque
A Quick Tour
Know Your BBQ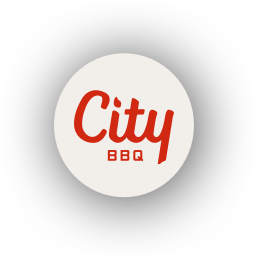 A Quick Tour
Know Your BBQ
DINE IN OR CARRY OUT
OUR MENU
* Menu item availability subject to change. Not all items are available at all locations.
Holiday Offerings
Samplers
Sandwiches
Chicken
Sides
Desserts
Kids
Party Packs
Meats by the Pound
Image

How we give back
We love fundraising for local charities and nonprofits (fundraisers get 20% of associated sales!). And if you need a donation—food for your event, a sponsor for your Little League team—we're first in line to lend a hand.
Image

Eat BBQ, Earn Rewards
Use those rewards for more (free) BBQ. Join City Rewards and earn points with every purchase—plus get $5 when you download the City BBQ app for the first time.